School Uniform provides a sense of community and encourages pride in being a member of our School.
At Bourne Grammar School, great importance is attached to a smart appearance and students are expected to wear correct School Uniform at all times. Uniform is checked on a regular basis by Form Tutors and Heads of Year, and sanctions are imposed where uniform does not comply with expected standards. The expected Dress Code for Years 7-11 can be found here below.
Our PE kit has been designed by our PE department and this is bespoke to our School. When students represent the School at fixtures our sense of team spirit is evident in the quality of our kit and the students' pride in wearing it.
All Bourne Grammar School bespoke School Uniform and PE kit is supplied by Sportswear International (SWI) – a well-established and experienced supplier of School Uniform and PE kit that supplies direct to home. All items of uniform are of a high quality, hard wearing and offer excellent value for money.
To ensure that your son/daughter complies with our uniform requirements we would recommend that orders are placed online via the Sportswear International (SWI) website:– please click here to access SWI.
All new customers will be asked to register and follow the online instructions to link their account to Bourne Grammar School. Details of how to do this are available here
Please click on the following links for more new starter information
Resources – Please follow this link for downloadable mailings to share with your parents regarding our summer operational plans.
Top Tips – A parent page detailing our top tips for their uniform shopping experience.
New Starter Hub – This link will lead parents directly to our New Starter Hub on the website, including the appointment booking page.
Orders can also be placed by post, fax or telephone and payment can be made by Visa, MasterCard, Solo and Maestro cards and cheque. Orders over £70 will be delivered free of charge. Orders under £70 will incur a £4.00 delivery charge.
Non-bespoke items such as white shirts, trousers etc. can be obtained from many high street retailers or online stores.
Important information from SWI: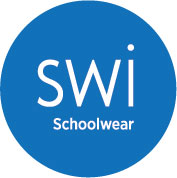 Every year towards the end of August and the beginning of September we have a rush of orders required for delivery before term starts. Late orders are no problem but we cannot guarantee next day delivery. Our normal delivery timescale is 2-5 working days. If any items of uniform or PE kit do not fit, exchanges can be made but will take 7-10 days from posting back to SWI. Further information can be found here: