Speech Night held at Bourne Abbey Church on Friday 22 November will be remembered as one of our best.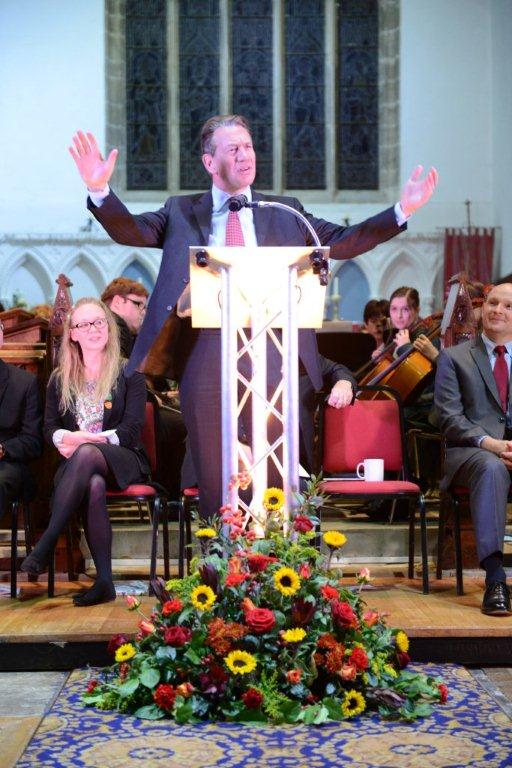 Speech Night at Bourne Abbey on Friday 22 November will be remembered as one of our best. Having secured a 'big name' it is always a relief when our guest actually arrives at School; Michael Portillo was in good time so the Head Students, Chair and Vice-Chair of Governors and the Leadership Team welcomed him with refreshments and a visit to the new Turing Centre before the short trip to the Abbey.
I was delighted to see that Michael Portillo spoke with every single prizewinner and he spoke to me later of his pleasure in the articulate responses he received. Although he had come to give out prizes, he received one too; one of the prize-winners was Max Hatfull who left last summer. Max is now studying Mathematics at Peterhouse, Cambridge, which is Michael Portillo's alma mater. Having done his research, Max brought a Peterhouse mug which was gratefully received. After giving out the prizes we enjoyed over twenty minutes of polished, perfectly timed, humorous and well-chosen oratory from a truly professional public speaker. Speaking entirely without notes Mr Portillo had the audience in stitches as he spoke of his colourful life as a politician and television personality. A grammar schoolboy himself, he spoke eloquently of the encouragement and inspiration, along with an excellent education, that he received at Harrow County School for Boys and how friendships made there have endured more than many others.
At the end of the evening Mr Portillo was kind enough to remain with us to chat with students and parents. Autographs were given, a copy of Bradshaw's was signed and everyone who wanted to could meet him. He left with a gift from the School of a book illustrating the history of the railways in and out of Bourne. This seems to have been well chosen as a few days later the following was received: It was a delightful event. I was delighted to open the book and to discover such an interesting and well-illustrated story of the railway. All that and a Peterhouse mug Yours ever, Michael. A full report of the evening and photographs can be found below.